Concierge Cryptocurrency was founded by Brian Winter, MEd, NBCT to serve all cryptocurrency investors, from the "brand-new," wanting to get started, to the experienced investor seeking advisory services.
Brian's interest in cryptocurrency has led to hours of research and execution in the pursuit of optimization in the cryptocurrency investment process.  Whether it's maximizing security, minimizing tax exposure, lending/borrowing/staking coins, or shaving-off fractional percentage points on exchange fees, Brian is relentless about creating the best crypto investment environment for his clients!
Once word spread through his various business mastermind groups, client network, and even friends and family, the demand for his cryptocurrency consulting services skyrocketed.  It turns out that many people want to invest in cryptocurrency, but don't know where to begin.
Whether you're the DIY type and just want to peek at Brian's playbook, or you want a crypto professional to "double-check" your work to ensure you're investing you're crypto assets safely, or you want the full, white-glove crypto-consulting experience, Concierge Cryptocurrency will meet your needs.
More About Brian
At the age of 6, Brian's idol was Alex P. Keaton (character of the hit TV show, Family Ties, played by Michael J. Fox) who was a teen-aged, savvy stock investor and guru of world finance.  As a youth, his morning routine always started with grabbing the financial section of the newspaper to check the price of his mutual funds (savings for college).  That intense desire and fervor culminated with his degree in Finance as the Presidential Scholar of 1997 from the Lee Honors College at Wester Michigan University.
However, Brian lost his interest to work in the "investment world," once he discovered that being a "financial advisor" for a big-box brokerage house was really just a sales position, pushing the most desired products by the firm at the time.  "This was NOT what I signed up for!"
So, Brian pursued his 2nd passion in life: education.  He taught finance, accounting & marketing to high schoolers for a decade.  He loved sharing his passion of time-value of money and investing.  But, eventually his services were needed at "home," as his wife's curriculum business was booming.  There, he served as the President of StudySkills.com for another decade.
Then, this little thing known as "cryptocurrency" caught his attention.  Catching BTC at under $6K was all it took for him to quickly use his prior education & training to dive deep into this industry.  And, he's never looked back.  The world of crypto has been both fascinating and exhilarating for him.  Until one day in October of 2020…
It was a beautiful sunny day in October of 2020, and Brian awoke to find his crypto portfolio was up, overnight, by double-digits.  But, he found this to be deeply saddening…  It suddenly occurred to him that cryptocurrency was going to make many people very, very wealthy earning triple-digit annual returns, while leaving others behind stuck by the limitations of the fiat world.
That's when he vowed to take his skills, knowledge, and experience in finance, business, and education, and make it a personal mission to share the world of cryptocurrency with as many people as possible, but doing so in a safe, secure, and joyful manner for both his clients and himself.  The final result is Concierge Cryptocurrency.
Now that you know who we are, find out What We Do.
The Single, Most-Costly Crypto Mistake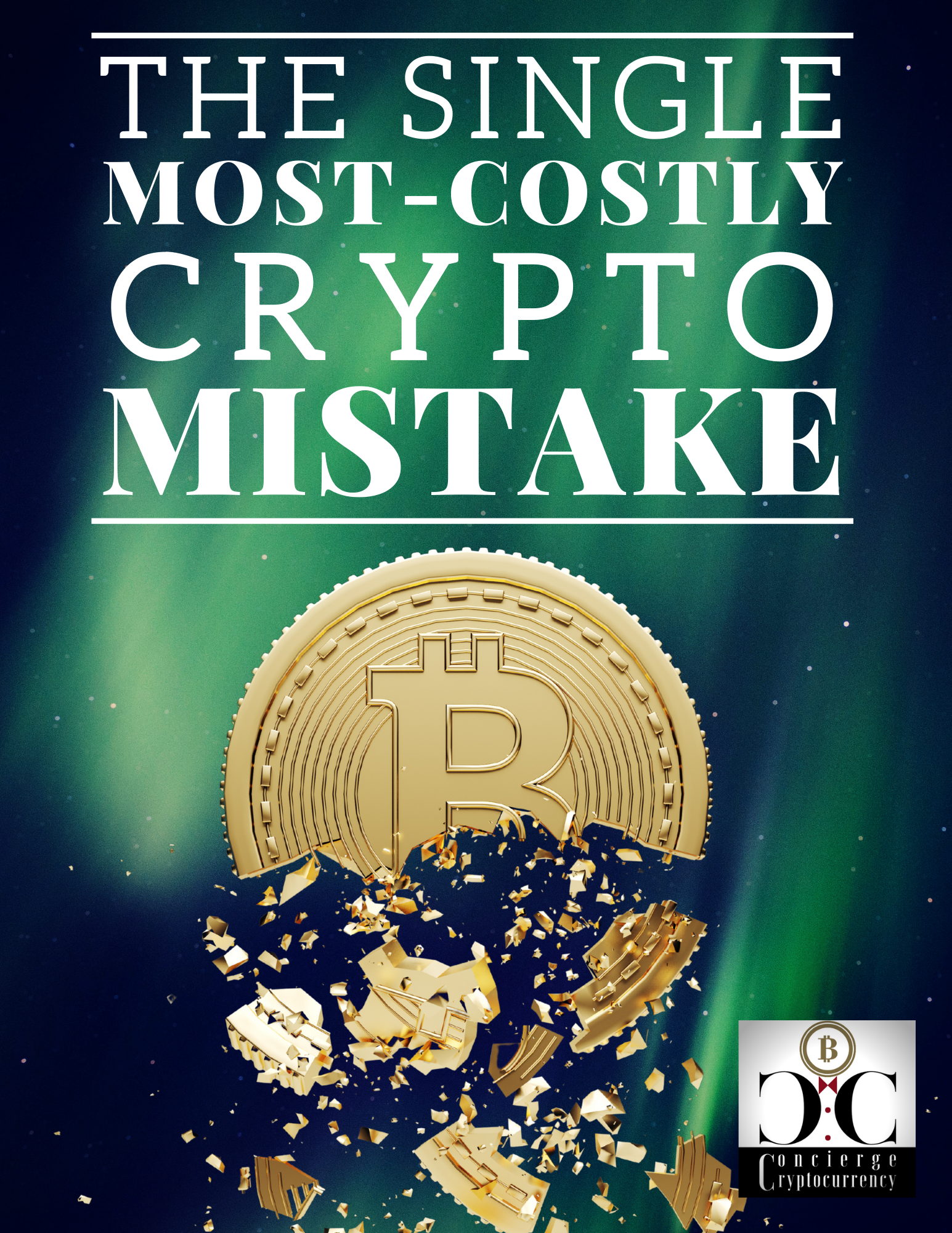 Get Your Free Report